About Marco Grassi and Slim Guitars work shop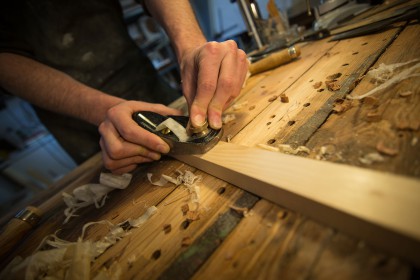 Slim Guitars is a lutherie work shop dealing with making and repairing musical instruments as guitars (classic, acoustic and electric) and so on since 2009. Over these years Slim Guitars has been specialized in creating acoustic and spanish guitars drawing insipiration from historical brands and luthiers, applying both aesthetic and building changes to make these instruments unique and special, to satisfy every kind of requirements.
Marco Grassi was born in Rho (Milan) in 1984.
At the age of 16, he became keen at guitars as a self-taught musician, till he decided to turn his passion in a business. In 2009, after studying 5 years at the Civic Lutherie School of Milan, he graduated as maker of stringed instruments. After carrying out a training at the master Aldo Ilotta's work shop (they made together a 7 chords acoustic guitar with fanned frets), he began to work in his own personal work shop in Lainate (Milan). Since then he started to give professional advices and repairs for work shops, professional musicians and private citizens.
The firts name of his firm was "Liuteria S.G.", then turned into "Slim Guitars" in 2015.